Weekend Herb Blogging #71 - The Round up. I'm pleased to be hosting this week's Weekend Herb Blogging. Kalyn over at Kalyn's Kitchen came up with this great format for sharing inventive and delicious recipes using herbs from around the world. Thirty-three people participated this week, so we have traveled the world a few times! Be sure to read all the way to the end as there are great posts all the way through the week.



The first entry comes from Susan at Food "Blogga", who blogs from Southern California, but is originally from Rhode Island. Susan uses fresh rosemary in her Butternut Squash Risotto with Rosemary, Walnuts, and Blue Cheese, which would make me work my glutes for too!



Next, Chris from outside Atlanta, Georgia who hosts Mele Cotte, brings us a delectable recipe for brussel sprouts, Cavolini di Bruxelles con le Mandorale/Brussels Sprouts with Almonds. Chris not only tells us how to cook them, but how to store them properly as well.


How Many Herbs Can You Find in this Dinner?
is what Ruth from Toronto, Canada asks with her WHB entry. Posts from her blog "
Once Upon A Feast
" appear regularly in WHB, and she's a real author - you can take a peek at her new cookbook at her site. Ruth is entering two recipes for us Beer Beef Stew and Herb Oat Bread. I can't hazard a guess at how many, can you?
A Yunus makes her very first entry into weekend herb blogging with a truly unique ingredient - bitter gourd. She writes her blog,
Kovai-Samayal
from New Jersey. She creates one of her favorite dishes for us, Urulai Paagarkaai poriyal /
Potato-Bitter Gourd stir fry
. I'm familiar with bitter melon from my days in Japan, and it's truly a unique and tasty addition to your table if prepared well, as it looks like is done in this recipe. Welcome to A Yunus!
Elle at
Feeding My Enthusiasms
, and the first food blogger I've met 'live', has joined WHB for the first time this week with a smashing
Roasted Red Potatoes with Onion, Garlic and Rosemary
entry, featuring fresh rosemary. Elle's kitchen is somewhere in Sonoma County, north of San Francisco. Welcome Elle!
Jo of
80 Breakfasts
is also a first time participant, and from Manila. She features an herb I've never heard of before, culantro. A relative of cilantro, culantro has a bit different look and a more pungent odor than its milder cousin. Jo makes
Geera Pork and Chadon Beni Sauce
to enjoy its characteristic flavor. Welcome to WHB Jo!
Katerina from Vancouver, British Columbia and host of
Daily Unadventures in Cooking
, brings us
Pistachio Pesto
. And you'll have to read what lovers do under the pistachio tree!
Writing from her North Carolina kitchen, Asha of
Aroma
writes of the 'Grains of Paradise' and shares a recipe for
Cardamom-Raisin Quick Buns
showing off this long revered ingredient.
Maheswari is a first time Weekend Herb Blogger who lives in Naperville, IL and encourages us to check out curry leaves, and posts a very unique breakfast dish,
Curry Leaves Flavoured Indian Rice Noodles
. A woman after my own heart, as I could eat noodles any meal of the day as well! And it goes well with her blog's name -
Beyond the Usual
. Welcome to WHB Maheswari!
From the heart of Vendee, France, Katie from
Thyme for Cooking
, finds winter an herbal dead zone, but salutes the shallot, the kitchen staple that does not let us down in any season. She posts an incredible recipe for
Boeuf Bourguignon
, which looks absolutely luscious!
Sher, living in Davis, California, who's the writer behind
What Did you Eat?
, brings us
Sicilian Chicken with Lemon, Mint and Almonds
, with mint as her herb of choice. She says this one is easy to prepare, and the San Francisco Chronicle named it as one of the best recipes in the last 10 years! Gotta make this one!
And along comes Kalyn, this event's originator at
Kalyn's Kitchen
out of Salt Lake City, UT, with another Easy South Beach Recipe:
Arugula Salad with Marinated Artichokes and More
! Be sure and check out all the interesting variations on the name for arugula at her site. It looks so good, another reason to try a new South Beach Lifestyle. We owe Kalyn a round of applause for creating this awesome venue to share community and such great recipes!
Anna in Sydney, Australia over at
Morsels & Musings
(who is getting married next week!) gives us some tips on choosing a honeydew melon, along with a salad recipe celebrating the year of the pig -
Honeydew and Ham Salad
.
Rigatoni with Caper and Almond "Pesto"
is what's cooking at
Rachael's Bite
out of Tampa, Florida. Rachael is featuring mint as her herb and admits that pesto sauces aren't her favorite in general, but she likes to mix things up once in awhile. A woman of like mind! You never know when you'll find something cool that way -- and since mint is a favorite of mine, I'll have to try this although I share her sentiment about pesto.
From Melbourne, Australia Anh of
Food Lover's Journey
, spices up our lives with a recipe for
Spiced Tomato Chilli Pickle
. Now if that doesn't win a prize for originality! How many people make pickles these days? Reminds me of my grandmother and mother who prided themselves on having an array of original pickles for family holidays. I've never gone down that path, and now Anh gives me a reason to try. Her descriptions are lush and beautiful, you'll not want to miss reading her entire post.
Keeping these in the order received/posted, I'll mention my own post about
Boursin Stuffed Pepperdews(tm)
, just the thing for a quick elegant appetizer to take to a party! If you scroll down just beyond this post, you'll see all the details.
Ulrike posts a recipe for
Bitter Orange & Poppy Seed Cake
featuring Seville oranges. Since our oranges in California were frozen out, it's an opportunity to try these Spanish beauties, and what's better yet is that this cake is made from mostly from the marmalade, so if you are a good shopper, your pocketbook is helped while still having top quality flavor. Europe has some wonderful varieties of oranges to try, so don't go without! Ulrike writes
Küchenlatein
from Kronshagen, Germany and is thoughtful in translating this into English.
Next, let's solve a language puzzle -- what is Batavia in English? This type of lettuce is pictured above, and is the main ingredient of Virginie's recipe below. If you know what variety it is in English, please post in the comments for all to be enlightened. I know by looking that it's a common variety, but I just can't put my head around the name either!
So on to
Absolutely Green
from Nantes, France, and Virginie's recipe,
Hot Nettle and Batavia Juice
. This vegan offering also has to win a prize for originality. It doesn't get greener than this - and I'll bet it's so healthy it makes you tingle all the way to your toes! Reflecting again on my grandparents day, taking a tonic in the spring was popular, a custom probably brought over from Europe. I am thinking this would make a great tonic, and be in keeping with getting your body in 'fresh' mode like those first buds and green sprigs of spring coming up soon! Virginie also thoughtfully translates the recipe into English, and notes a way on her blog of ongoingly translating text of food blogs in other languages. This is a great way to expose yourself to some original cooking ideas, and although the translator isn't perfect (like the Batavia issue), experienced cooks can usually figure it out and do quite well!
Astrid in Vienna, Austria who writes
Paulchen's Foodblog
treats us to two herbs and recipes in her post "
Pasta with Cheese & Leek, and Vanilla-Yoghurt Strawberries
". This is another bi-lingual blog where posts can be found both in English and German. Astrid also give tips as she's making the recipe, without even a thought -- for example noting in the preparation to "take a handful of slices of a young leek", always a good idea with leeks to use young ones. It was interesting to find out about the Wales connection to leeks as well.
From Toronto, Canada, Elizabeth from "
Blog from OUR Kitchen
" informs us that Pink Peppercorns are actually not pepper at all. To find out what they are, visit her post "
Pink Peppercorns (Schinus terebinthifolius Raddi)
" and enjoy her recipe(s). She actually manages to make Chicken Livers sound GOOD.
Jeffrey is one lucky young man to have Christine of
Christine Cooks
in Trinidad, CA as his mother! She whipped up a delectable vegan dinner using TVP, which I know can really be turned into something terrible if not prepared well. Christine prepares it well and pays attention to the details of bringing out the taste of this very healthy ingredient in her
Vegan Stir Fry
. Look at that delicious plate of food!
Gattina from New Jersey, in
Kitchen Unplugged
shows us how to make
Basic Egg Pasta Dough
from scratch. The instructions are very clear, and she really knows her wheat, specifying hard durum wheat for the best result. She notes its more favorable nutritional profile as well. WARNING: If you read Gattina's post, you'll likely be inspired to try it in your kitchen!
Kenneth from Harrisonburg, PA writes about
Mythical Gourmet Garlic
in
Veggie Gardening Tips
. If you want to know about organic cultivation of garlic, and the herb's mysterious sex life, have a peek.
Haalo from Melbourne, Australia who writes
Cook (almost) Anythg Once
is in an orange mood, and brings us a recipe for
Caramelised Oranges
. She balances the orange's goodness and nutrition against the 'badness' of all that sugar, and adds a nutritious topping. Her step by step photos make this simple as 1-2-3!
And another new WHB blogger, Rebekah from the Smokey Mountains of North Carolina brings us a
Posy of Marjoram
from her
Rags to Roses Farm
. Travel to this blog to find out all about this beautiful herb and find a recipe that incorporates a fruit which it has a natural affinity with. Welcome Rebekah!
Paul at
Writing At The Kitchen Table
, in the U.K., reminisces about childhood cooking chores and brings us this moist and marvelous recipe for
Zucchini Bread
. If you've ever helped harvest anything, you'll be sure to get lost in memory lane when reading this.
Sandeepa, growing up in West Bengal and now writing of the delights of Bengali cooking from her home in the US at the
Bong Mom's CookBook
, tells us a lot about the bitter gourd, and its healthful profile, not to mention its bitter taste and her changing relationship to it over time. She gives us marvelously detailed instructions for
Ma er Tetor Dal ~ Dal with Bitter Gourd
, so we can enjoy it as well.
Next to send in their WHB post is Helene from Landau, Germany who authors
News from the Kitchen
in German and English. She makes a stunning winter soup "
Calamar with Pat Soi
"; the colors are so vibrant in the finished potage that you'll have to take a look at her site to just to see it, even if you are not going to reproduce it! I used the ingredient photo here so you could see what the Pat Soi (Japanese Mustard Cabbage) looks like for finding it at your local market.
Glenna of Springfield, MO who writes
A Fridge Full of Food...
brings us a very bright and appetizing
Vietnamese Cole Slaw
which is packaged perfectly for taking to work. It also uses the ever-popular herb cilantro in it.
Another first time WHB participant, Emily of
Superspark
who appears to be cooking from a place in Southern California, invites us to consider mustard greens again. She uses them in
Linguine with mustard greens, pecans, and feta
which is quick to make and good enough to serve at a dinner party. Welcome Emily!
Burcu of
Almost Turkish Recipes
brings us an amazing cake which balances mint with green onion and olives. From her kitchen in Bloomington, IN she bakes
Black Olive Cake (Zeytinli Kek)
, which looks mouth-wateringly good. Out comes my Turkish tea set!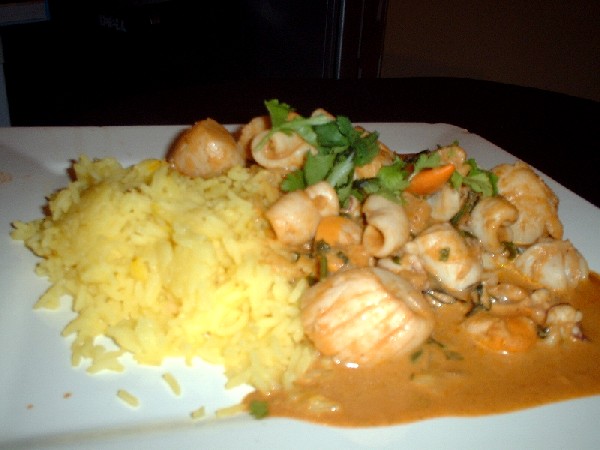 Roshani at
Living to Eat
in London brings us
Spicy Squid and Scallops with Saffron Rice
featuring fresh curry leaves as her entry from the other side of the pond. There is nothing like fresh curry leaves, and she lets us in on a secret to preserving them.
Spinning around the globe again, we end up visiting Ed of
Tomato
in Melbourne, Australia who's dreaming. I love it when he dreams as we always are the beneficiary of something unique and interesting. Today he says "
I dreamed of vitello tonnato
". Visit his world to find out about salted capers and this most unusual and dreamy dish.
So that's it for this week, be sure to join Weekend Herb Blogging back at
Kaylyn's Kitchen
next week as she's the host for February 26 - March 4th.