Weekend Herb Blogging #117. Another week of blogging about any herb, plant, vegetable, or flower! This week there is a little extra anticipation going round since I am hoping this post will be a record buster -- and there's a prize for someone at the end of the day! Personally, I am fond of colors, so I'm going to organize this post by color! I wonder what the 'in' colors are this week? I'm also going to number the entries to make it easier to tally scores.

I wrote the first paragraph as I was starting to write the summaries, and now on a rainy Sunday afternoon can tell you that "green" is the hands-down favorite this week... and we didn't break the record, but had a good show of 31 32 posts! But that's all the better for the chances of those here to win the prize. After posting this I will attend to prepping and drawing for the food-related book, all to be revealed tomorrow! These posts are fabulous all the way to the end, so sit back and take your time on a food adventure through the bounty of nature!

NOTE: See additional post for Tigerfish under "Green" -- she was on time, but my search skills lacked. Sorry!

Red

1. Blogger's Name: Valentina
Blogger's Location: England, UK
Blog Title: Trembom
Entry Link: Beetroot Salad with Pistachio Sauce

Valentina's was the very first entry in this week. She is a busy woman, maintaining the blog both in Portuguese and English! This garnet-red dish packs plenty of fiber and sounds absolutely luscious!



2. Blogger's Name: Laurie
Blogger's Location: Anchorage, Alaska, USA
Blog Title: Mediterranean Cooking in Alaska
Entry Link: Roasted Beet and Thyme Risotto & Halibut Confit with Lemon and Capers

This ruby red risotto featuring beets would be an eye pleasing addition to any plate! And a perfect pairing with Halibut Confit. Laurie makes a surprising discovery about the capers, take a look and see.



3. Blogger's Name: Bee and Jai
Blogger's Location: Northwestern USA
Blog Title: Jugalbandi
Entry Link: Tomato Rice (Thakkali Sadam)

Bee and Jai are cooking up a lovely dish infused with the freshness of perfectly ripe tomatoes on the vine. Read about the unique ingredients for a lycophene punch!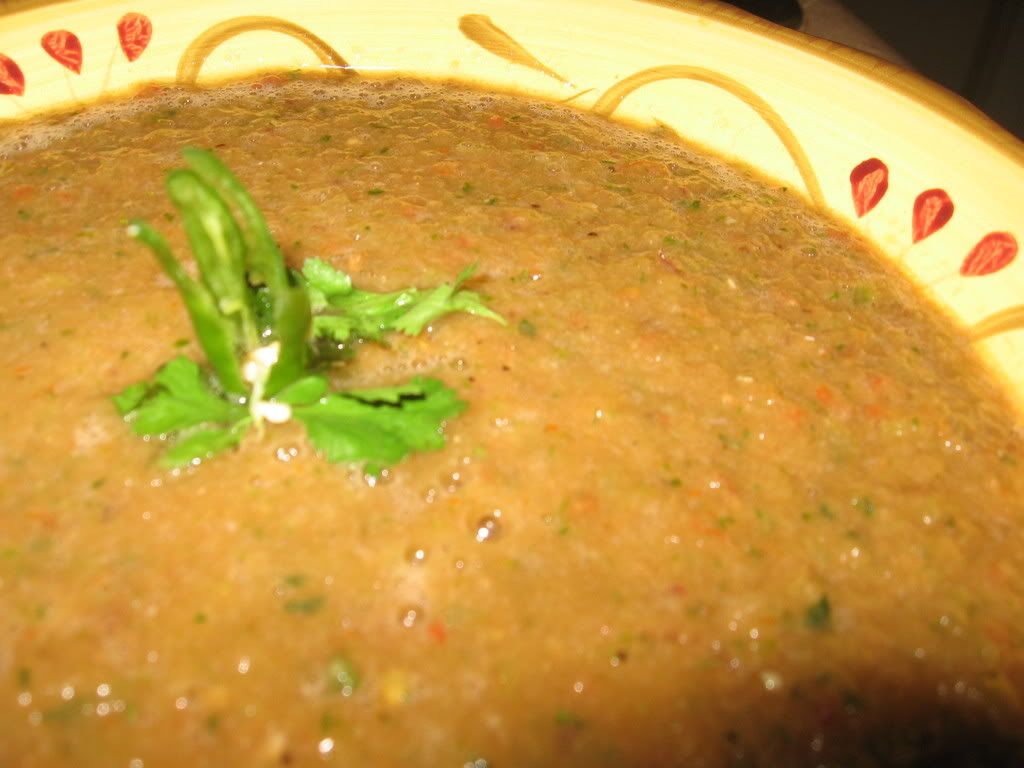 4. Blogger's Name: Siri
Blogger's Location: New York USA
Blog Title: Siri's Corner
Entry Link: Weekend Herb Blogging - Gazpacho!

A fresh soup chock full of vegetables! Classified it as red since there are more tomatoes in it than any other single vegetable. And a quick prep time.



5. Blogger's Name: Pam
Blogger's Location: Victoria, Australia
Blog Title: The Backyard Pizzeria
Entry Link: Spicy Tomato Jam

This one is most definitely red! And how lucky to be in the midst of summer in Australia and have these lovely tomatoes at your disposal for creative cooking! Tomato jam? Who would have thought?



6. Blogger's Name: Jerry
Blogger's Location: Canada
Blog Title: Jerry's Thoughts, Musings, and Rants...
Entry Link: Tomato, Pancetta and Arugula Pizza

Red ripe tomatoes, salty pancetta and peppery arugula, what a great pizza combo. Don't you wish you could join Jerry for a casual dinner?

Yellow



1. Blogger's Name: Kevin
Blogger's Location: Toronto, Canada
Blog Title: Closet Cooking
Entry Link: Lemon Chicken

Take a look at how Kevin thoughtfully lightens up Lemon Chicken and infuses it with other fresh herb flavors for a toothsome finale!

Green



1. Blogger's Name: Mike
Blogger's Location: Florida, USA
Blog Title: Mike's Table
Entry Link: Apple Chicken Curry

Mike's ongoing personal cookbook is full of successful experiments in food, and his Apple Chicken Curry is one that looks like a wonderful marriage of interesting ingredients. He highlights the herb 'kasoori methi' which has been a well-kept secret from me! Find out its claim to fame by visiting his post.



2. Blogger's Name: Gretchen
Blogger's Location: Lima, Peru
Blog Title: Canela & Comino
Entry Link: Breakfast Acelga Squares

Gretchen makes colorful Breakfast Acelga Squares for her entry which starts the day off with an antioxidant punch! Acelga is Spanish for Swiss Chard, and it's really packed with nutrients, take a look at Gretchen's post for easy substitutes as well.



3. Blogger's Name: Kalyn
Blogger's Location: Salt Lake City, UT USA
Blog Title: Kalyn's Kitchen
Entry Link: Cannelini Bean Soup Recipe with Roasted Italian Sausage and Escarole

Kalyn, the originator of Weekend Herb Blogging, posts about the least bitter herb of the endive family, escarole. This looks like a warm and delicious dish that would bring comfort and nutrition on a cold and rainy night.



4. Blogger's Name: Burcu
Blogger's Location: Athens, GA USA
Blog Title: Almost Turkish Recipes
Entry Link: Lentil Soup with Bulgur

French lentils are green, yes, but so is the other special ingredient in this most hearty and beautiful soup. You'll have to visit Burcu's blog to find out the secret!



5. Blogger's Name: Charise
Blogger's Location: Dublin, Ohio USA
Blog Title: More Bread and Cheese, Please
Entry Link: Moroccan Chicken Smothered with Olives

Charise uses several very green things in this dish that sounds like it was just the treat to have after water pipes bursting around her! Be sure to follow the link for the recipe!



6. Blogger's Name: Pam
Blogger's Location: Soddy Daisy, Tennessee USA
Blog Title: Sidewalk Shoes
Entry Link: Avocado Salsa

Toppings for soups? Yes! Brilliant. And this sounds good in the soup Pam's paired it with in her post. Check it out, especially if you like cilantro.



7. Blogger's Name: Wandering Chopsticks
Blogger's Location: Southern California USA
Blog Title: Wandering Chopsticks
Entry Link: Tom Rang Muoi (Vietnamese Shrimp Fried with Salt)

I had some shrimp similar to these at Betelnut in San Francisco, so I can personally attest that these are YUMMY! I wanted the recipe, and how I have it, but with the addition of basil and chili. I placed it here because of the lovely whole basil leaf touch. This one's a keeper, so visit Wandering Chopsticks and have your bookmark utility at the ready!



8. Blogger's Name: Strata
Blogger's Location: Sunnyvale, California USA
Blog Title: My Bay Area Garden
Entry Link: Winter Greens: Getting Spiky about Spring

Once you read Strata's post, I'm sure you'll agree with me that she's Queen of the Greens! Find out about using flowers to perk up your cuisine as well.



9. Blogger's Name: Sher
Blogger's Location: Davis, California USA
Blog Title: What Did You Eat?
Entry Link: WHB: Vietnamese Meatballs with Lettuce Wraps (Mint)

Sher's dish looks so healthful with ground chicken or turkey meatballs dressed in all that crisp greenery, featuring mint! Like most adventurous cooks, Sher intuitively leaves out an ingredient in the original recipe and finds it makes no appreciable difference... find out what she leaves out at her post.



10. Blogger's Name: Anna
Blogger's Location: Sydney, Australia
Blog Title: Morsels & Musings
Entry Link: Zhoug, Spicy Yemei Sauce

Anna makes a zingy zhoug which will cheer up your falafels! Don't miss her special recipe and learn a little about Yemen as well!



11. Blogger's Name: Haalo
Blogger's Location: Melbourne, Australia
Blog Title: Cook (almost) Anything at Least Once
Entry Link: Weekend Herb Blogging #117

Haalo breaks new ground with a Farmer's Market find: Samphire! Learn how to tame these branches and enjoy something very different by reading her post.



12. Blogger's Name: Peter
Blogger's Location: Toronto, Canada
Blog Title: Kalofagas - Pursuit of Delicious Foods
Entry Link: Amaranth

I thought that this was just a grain until reading Peter's post. Don't miss the scoop on this most interesting green.



13. Blogger's Name: Jeanne
Blogger's Location: London, England UK
Blog Title: Cook Sister!
Entry Link: Kalyn's Roasted Green Beans

Don't you love it when you see a blogger's recipe travel across a sea and be appreciated again in another setting? Jeanne uses "French" Kenyan green beans and uses our own Kalyn's recipe (Utah, USA) to make this healthy and beautiful dish. You'll have to visit her site to see about the good things in green beans. And don't forget to read the comments - especially the one from the pilot!


14. Blogger's Name: Tigerfish
Blogger's Location: San Francisco Bay Area
Blog Title: Teczcape - and escape to food
Entry Link: Loofah, ridge gourd, rich god, or the fairy god mother

Eat loofahs? Sounds like the rich god grants you a wish, if nothing more than a fascinating post and easy cooking techniques to enjoy this Asian green.

Orange



1. Blogger's Name: Ricki
Blogger's Location: Toronto, Canada
Blog Title: Diet, Dessert and Dogs
Entry Link: Lucky Comestible I: Mini Sweet Potato and Chocolate Chip Muffins

Ricki's Mini Sweet Potato and Chocolate Chip Muffins make me want to drop everything, run into the kitchen and try these out now! Sweet potatoes are surprisingly healthy for their sweet taste.




2. Blogger's Name: Astrid
Blogger's Location: Vienna, Austria
Blog Title: Paulchen's Food Blog
Entry Link: Chicken Soup

This soup looks so homey and delicious with carrots taking the center stage. This has to taste good, and be good for what ails you.

Brown/Beige


1. Blogger's Name: PatL
Blogger's Location: New Hampshire, USA
Blog Title: Up the Creek without a PatL
Entry Link: Amazing, Scrumptious, Sensuous, Delicious - Have I convinced you yet?

PatL raises the humble garbanzo bean to a new level in this post about a wonderful, warm and nutritious entree which is both easy to make and to eat!



2. Blogger's Name: Anna
Blogger's Location: Mill Valley, CA USA
Blog Title: Anna's Cool Finds
Entry Link: Stuffed Yuba

Well, this one is mine -- a soy wrapper stuffed with mushrooms and tofu, then steamed.



3. Blogger's Name: The Chocolate Lady
Blogger's Location: Greenwich Village, NYC, NewYork USA
Blog Title: In Mol Araan
Entry Link: Vanilla-Scented Bourbon

Well, no doubt the herb is vanilla in this offering from The Chocolate Lady. Sounds like an elegant touch for a party, or maybe a nice pairing with dessert. See her post on other ideas on how to use this!


White



1. Blogger's Name: Katerina
Blogger's Location: Vancouver, Canada
Blog Title: Daily Unadventures in Cooking
Entry Link: Warm Roasted Fennel and Potato Salad

Katerina makes this warm winter salad using the white fennel bulb as well as its more colorful tops and adds potatoes. I've made an Italian version of a warm fennel salad, and I can attest that warm fennel is surprisingly gratifying and has a unique flavor.



2. Blogger's Name: Gay
Blogger's Location: Philippines
Blog Title: A Scientist in the Kitchen
Entry Link: Fennel High and Oven Fried Chicken

Oh my! This one is SO simple and looks SO delicious. Gay uses fennel seed to good effect, and lets us in on where the name 'fennel' originated.



3. Blogger's Name: Patricia
Blogger's Location: Brazil
Blog Title: Techicolor Kitchen
Entry Link: Spaghetti with Garlic and Spinach

Patricia takes simple ingredients and makes a mouth-watering melding of spaghetti with garlic and spinach (and you'll have to visit her post to see the rest!). Sometimes the simplest things turn out to be the best.




4. Blogger's Name: Zorra
Blogger's Location: Andalucia, Spain
Blog Title: 1x umruehren bitte aka kochtopf
Entry Link: Smooth, Creamy and Oozy Leek-Risotto

Zorra makes risotto the hard way -- with lots of stirring over low heat at the stove. Since only the white part of the leek is used, I've placed it in this section. Can you replicate this luscious meal?



5. Blogger's Name: Kate
Blogger's Location: Canberra, Australia
Blog Title: Veggie Friendly
Entry Link: Weekend Herb Blogging - Aloo Gobi recipe (cauliflower and potato = yum)

Kate speaks of vegetable seduction, and her very herb infused recipe for aloo gobi looks marvelous. Stop by her blog and see the finished product.



6. Blogger's Name: Katie
Blogger's Location: Vendée, France
Blog Title: Thyme for Cooking, the Blog
Entry Link: Braised Veal with Garlic; An Iron Rant

What a great dish for winter! Not only warming, but look at the benefits of garlic that Katie describes. And don't miss her iron rant!